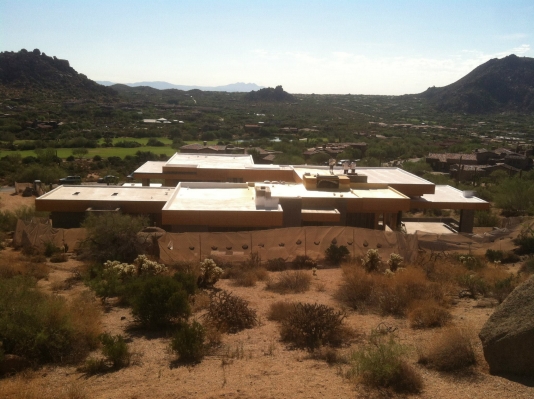 SPF is a winner for residential projects due to its excellent longevity and to the fact that savings of between 20% and 40% in home cooling costs here in AZ means the roof pays for itself in under 5 years.
The polyurethane spray foam roofing is a two component, one-to-one by volume spray applied rigid polyurethane foam. Our SPF is designed to provide a long term, sustainable roofing solution that is watertight, provides superior insulating power as well as incorporating a reflective surface to provide energy efficiency.
It is a technically advanced spray roofing system intended for use by authorized contractors trained in the processing and application of spray polyurethane foam. It provides a self adhering, seamless, high R-value roofing system.  Utilizes an EPA approved, zero ozone-depleting blowing agent. It is a roofing system designed for commercial, industrial and institutional applications. Is compatible with most common roofing materials and roof deck substrates.
Why Install A Spray Foam Roofing System?
Reduce the costs of installation with the option to either install as a new system over the majority of roof decking substrates or apply to an existing built up roofing system allowing a cost effective alternative to a complete replacement.
The high R-value of the closed cell spray polyurethane foam (SPF) will reduce your energy usage
An SPF application provides a seamless monolithic roof system preventing cold air entering through joints, seams or cracks
Our line of roof coatings will complete your new roof system. Provides an additional weather-tight seal along with the UV light protection that will create a long lasting roof solution for the property owner.
Spray Foam Roofing Advantages
Superior Insulation Performance
Good Dimensional Stability
Excellent Cure and Overlap Adhesion
Broad Range of Application Conditions
High Yields
Ease of Application
High closed cell content
Zero ODP