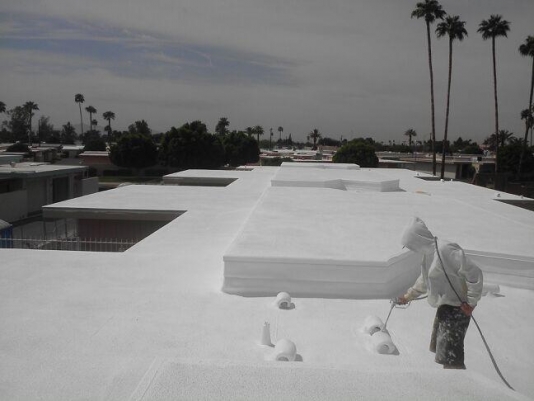 Elastomeric, energy saving roof coatings will not only help you save on your energy bill here in AZ, they can also save you up to 50% on the cost of a full roof replacement by repairing leaks with minimal disruption.
Armor Coat 100 (AC100) is our premium topcoat brand and was designed for the contractor that values quality and performance over all other things. AC 100 carries the prestigious Cool Roof Ratings Council (CRRC) approvals. As with all of the AC series topcoat lines, AC 100 is manufactured using one of the industry's premier 100% acrylic polymers purchased from the industry's leading manufacturer of exterior resins.
AC 100 was developed primarily for use directly over spray in-place polyurethane foam due to its excellent adhesive qualities as well as its superior reflectivity making it extremely UV stable to protect your roof from the intense heat and the sun's damaging ultra-violet rays encountered in the Southwestern United States.
Excellent for use over polyurethane foam, metal, asphalt emulsions, masonry, asphalt shingles, cap sheet, plywood and concrete. Some substrates may require the use of a specialty primer prior to application. Always consult with manufacturer prior to starting any job to make sure products are being used in accordance with manufacturers recommended application guidelines.
PRODUCT ADVANTAGES
HIGHLY REFLECTIVE
EXCELLENT ELASTICITY
GOOD SOLIDS CONTENT
GOOD TENSILE STRENGTH
ENVIRONMENTALLY SAFE
EXCELLENT ADHESION TO MOST SUBSTRATES
RETAINS ELASTICITY